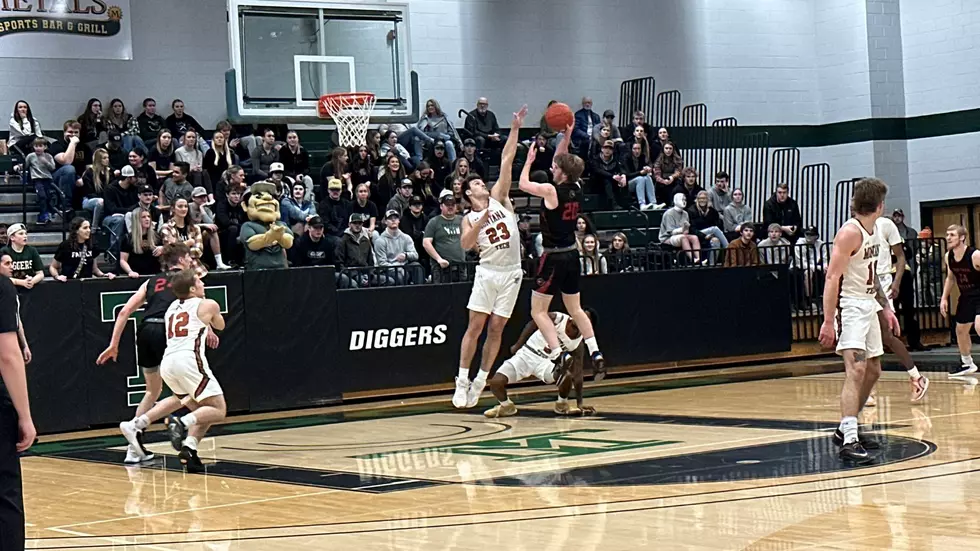 Orediggers look to sweep the Battlin' Bears
Tech's Bridger Larson defends Western's Michael Haverfield Thursday night at Kelvin Sampson Court. Photo: Tommy O/Townsquare Media
Back to the broken record for a moment, the Men's Frontier Conference is incredibly competitive.
It was yet another night of every home team hanging the 'W'.
Another game in the Armory, and another impressive showing by Coach Huse and the Lights of MSU Northern taking down Carroll 79-61. There were three big runs in the Tech Western game Thursday, fortunately, 2 of the 3 belonged to the Diggs in an 86-61 win over the Dawgs. And the Battlin' Bears pulled out a huge 93-75 win at home over Providence.
The 'Wild Frontier' on the Men's side, was exactly that Thursday. Here are the current standings.
Montana Tech        8-3
Providence            7-4
MSU Northern       6-5
Carroll College      5-6
Rocky Mountain    4-7
UM Western          3-8
With four games left in the regular season, there is absolutely nothing set in stone at this point.
Rocky comes to town with a full head of steam coming off a monster win over Providence. Tayshawun Bradford led the Bears with 25 points, Maxim Stephens finished with 14, Nick Hart had 12, Beau Santistevan and Cade Tyson each had 11. Rocky shot 47% for the game, and only turned the ball over 6 times. Oh, and Coach Dreikosen's bench gave him 43 points, Solid.
They are led by Kael Robinson and Maxim Stephens on the season, each getting 12 ppg. Jesse Owens comes in at 10, and Bradford is averaging 9 points a game.
Tech won the opening contest on December 1st 82-59 and was able to escape Billings with a win on January 19th 78-55. The Digger D led the way in both of those victories.
In the win over the Bulldogs last night, Montana Tech shot 48% from the floor AND 48% from the arc. Michael Ure got the Diggs started with 9 of his 14 points right out of the gate. The momentum found its way to the shooting hand of Caleb Bellach (as it has a habit of doing) and Belly put up 14 points in the first frame.
The second half belonged to Asa Williams. Williams went 5 of 6 from the 3-point line and finished with 19 points in the second 20 minutes. Tech leads the country in (lack of) turnovers, only turning the ball over 8 times a game. They had 5 turnovers in the first half, and zero in the second half.
Saturday is a huge game for both programs, Rocky fighting for position, and Tech looking for more breathing room between themselves and the rest of the conference.
Tipoff is scheduled for 4 pm at the Great Western HPER Saturday.
You can look at the Women's Preview HERE.
Butte Montana's Empty Bowls
Butte's Empty Bowls Fundraiser for The Butte Food Bank